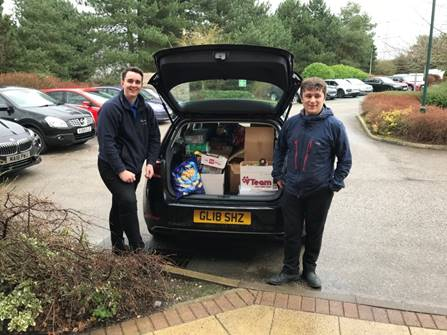 Our team in Runcorn Head Office have been supporting the Trussell Trust food banks for over 3 years. They were upset to discover that Runcorn has 7 food banks which support the local community and they made the decision they wanted to help.
Patricia Thompson goes on to explain how it all started
"We first decided to collect Easter Eggs and then Advent Calendars for the local children that may go without. Then at Christmas we wanted to donate all types of the community might need that we would not use when sorting our cupboards to restock at Christmas.  We have now been doing this for about 3 years, and now the team ask if and when we are going to start and collect when the above periods come around. The team at Runcorn are very generous and always try to support.
We manage to secure donations for other teams when they come to visit Runcorn, some members of staff will give me cash and this year I went and did 3 big shops with the money donated.
We take all items to the distribution center in Runcorn who then feed to the 7 foodbanks scattered around Runcorn.  They have now come to recognize us when we arrive and always very happy to see us with at least one car full of goodies.  Colin, from the food bank always tells the story of a man who had to visit and felt worthless due to his circumstances.  When he received his 3 day rations there was a small bar of chocolate amongst the basics and this moved him to tears to think someone would care enough to give him what he considered a luxury item. This story always moved me as in this day and age it could be any of us"
We're so proud of Pat and the rest of the team at Runcorn for their determination to truly care about others and inspire others to do the same. Well done all!