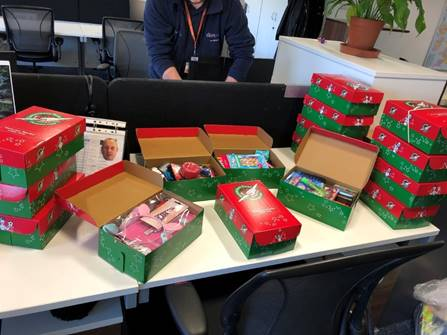 At PH Jones we actively encourage our teams to come up with ideas for fundraising and charitable giving.
Lois Carter from our Head Office decided this year to support Operation Christmas child.
Lois says "I had the idea that we should do OCC as we have done it before, I knew people would rather sometimes donate money than fill a box themselves so we gave everyone that option and that's what everyone chose, which meant we could use the donations to buy multipacks of things and fill even more boxes. We went to a Local pick up point for the boxes, went shopping, even had a charity (who sell brand new items that stores no longer can sell) donate lots of things as well. We managed to fill 16 boxes in total, 8 boys and 8 girls and then sent them to a local primary school who send them off for free"
So a big well done Lois and the rest of the team at Head Office!